Hollywood Outsider Production Notes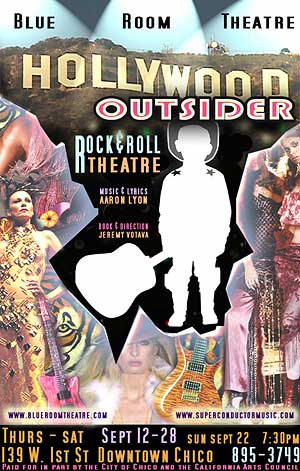 10/2/02
It's a wrap: Thanks, everyone (band, cast, crew, fabulous fans), for making Hollywood Outsider a wonderful success. The audience was really great; we had two sold out nights and four standing ovations. I'll have more photos, radio and television interviews, and other stuff to post in the near future. In the mean time, you can buy a Hollywood Outsider CD!
09/19/02
The Reviews are in: Hollywood Outsider received two reviews in the local rags today, one glowing, and one "split." From the Buzz:
For its part, the band was perfect. The sound control alone deserves an award. Almost without exception, the unamplified actors got their points and their lines across without being drowned out by the fully electrified rockers
Although more critical (subtitled "Blue Room's production of original rock 'musical' suffers from a dual personality"), the Chico News & Review contains high praise as well:
Songwriter-musician-singer Aaron Lyon and the band present his songs almost meticulously. Bassist Chris Hunter and drummer Clint Bear are one solid rhythm section. The background singers--Sarah Foster, Giovanna Leah and Judi Souza--hit their notes precisely. Guitarist Maurice Spencer demonstrates an expert level of proficiency at coaxing a multitude of sonic effects from his instrument, from delicate melody lines to driving power chords. Even Spencer's occasionally induced feedback seems choreographed, it is that well controlled.
Read the complete reviews and hear radio interviews on the new Media Coverage page.
09/13/02
Tired and happy: Thanks for the "break-a-leg" wishes, y'all. The opening show last night was packed, and ran exceptionally well. We were warmly received, and the audience popped right out of their chairs at the end and gave us a standing ovation.
Joe, the theater's director, warns us that the second night can be a let down, because the audience is typically smaller than opening night, but I can't imagine having any less fun performing the songs.
Hoping I can squeeze in a nap this afternoon...
09/12/02
World Premier!!: Tonight is the night. Here are two photos to give you a taste. More to come. (Photos moved here...)
09/5/02
Getting there: The show is shaping up very nicely. For the first time, we had the opportunity to run the show with actors and musicians all together, and I saw that it was good. Up until now, it was only a dream.
We have a rock lighting designer working the rigging this week, and the sound system is being installed and tuned up on Sunday. All next week is devoted to technical and dress rehearsals, and we will open on Thursday night...only seven days from now! Ahh!
The actors, having memorized their lines, are "internalizing" them, as they say. It's really cool to hear those lines spoken so naturally. They're really breathing life into the scenes.
The band has crossed the threshold of "learning" their parts as well, and we are now refining the nuances of the performance. Of course, all our rehearsing has been in the most primitive of sonic environments...once the PA gets set up, we will suddenly be able to hear one another clearly. Which will either be a good thing, or entirely embarrasing...
Radio radio: I had my third and final radio interview today on KZFR. For this one, my guitarist Spencer joined me, and we performed two of the songs live in the broadcast booth. Recently I taped an interview with Kay Grace on KCHO which will be broadcast this Saturday at 1:30pm. Check out their web site...you may be able to listen to the streaming verion of the Saturday broadcast. Tomorrow I have an interview with Heather Gamberg, editor of the weekly entertainment section of the news paper we get. Busy busy.
Anyway, check out the official press release, and I'll report again during tech week!
08/22/02
I spell relief...: Life is better. I have a solid band...FINALLY! Drummer Clint and bassist Chris live in an old Victorian with a great practice room in the basement. BONUS! We have played together twice so far, and they, along with guitarist Spencer, really pick things up quickly. Next week we'll play together with the three "chicks" (their own label), my back-up singers. We have only a short time to polish the music, but I'm feeling a LOT more confident than, say, when I had no musicians...
It's a wrap: Last week I sent the Hollywood Outsider CD master off to Canada to be mass replicated. Boxes full of shrinkwrapped CDs should arrive by September 2. I feel really great about the album as a whole. Of course, there's never enough time to make it exactly the way I want, but I ended up with a polished and professional product that I'm very proud of. Now to start planning the next one...
Radio radio: During the next few weeks I'm appearing on three local radio shows, including our National Public Radio affialiate KCHO!
Only 21 days to go...
08/12/02
Recently: Auditions went perfectly. We had only about two dozen show up, but were able to fill all the spots in our cast and chorus with talented people. Bravely weathering my abundant edits, Jeremy has finished the script, and started rehearsing the cast.
In the mean time, I have finished mixing Hollywood Outsider, the studio recording. This is a real milestone for me. My first, complete, polished album of music. It makes me sincerely happy. Five hundred shrink-wrapped copies will be availble on September 2. That leaves me to concentrate on the...
Band? What f-ing band?: Tonight is our first regular band rehearsal and I don't have a keyboard player or drummer. Both flaked out with a "gee, sorry" note. And my bass player is making noises about conflicting schedules...sounds like he'll bail soon. Musicians SUCK! AAHHHHHHHH!
I know, I know. We'll find replacements. We'll have a good band and a great show. I know it will happen.
In the mean time I'm fully stressed.
07/15/02
Auditions: Here's your chance to be part of the World Premier of Hollywood Outsider! Open auditions are being held on July 28 at the Blue Room Theatre in Chico. Remember to bring me cash or chocolate if you want to improve your chances. ;)
07/9/02
Studio Hermitage: Ooh, I got some serious work done, I did. All the women went to visit family for five days, leaving me at home to ignore shaving, showering, eating and sleeping in favor of recording music. I bought an Alesis DM5 drum module to replace the thin-sounding Yamaha XG drums I was using. Much better. You can hear the new drums in the three new songs—I completed basic tracks for Goodbye Dad, Dead Singers, and Waiting Room. And I began working on Return to Me, the last untouched song! I have six weeks left to complete everything (recording additional tracks, editing, mixing, and mastering) before sending the master out for duplication. It's starting to sound like a possibility!
06/12/02
Bass bonanza: The Outsiders met for our first rehearsal on Sunday. Fortunately, we found not one, but TWO bass players to audition! Now I have to make a tough choice. But the rehearsal went well, and just as expected: some parts were wonderful, and some, unlike anything I want. No troubles, tho...it was just a chance to meet and play, and was great excercise for my voice.
PR machine: Stephanie at the Blue Room is responsible for PR, and she is on top of it like a cherry. We're going to have reviews and interviews in print, radio, and television! The blitz will start in mid-August, and really kick in two weeks before opening night.
Get to work! So, it's late nights in the studio. I have been programming drums for the remaining tracks: Dead Singers, Goodbye Dad, Waiting Room, Return to Me. Will post more demos as available!
06/4/02
Firm dates: OK, it's looking serious. I just got a Blue Room Theatre flyer in the mail, and Hollywood Outsider is officially in the Fall lineup. "September 12-28: The Blue Room is proud to present the World Premier of local musician Aaron Lyon's storybook rock musical in the spirit of Pink Floyd's The Wall and the Who's Tommy. An all-star live rock band drives this journey of discovery." Wow.
I put basic tracks together for the fourth song on the record, "Cigarette Girl." That means only five to go. Then add the supplimental tracks, guest tracks, mix, master and print. All in 12 weeks. But, hey! Would it ever get done without a deadline?
First casualty: Bassist Mick jumped ship before leaving port citing prior committments and overbooked schedule. Glad for the early notice. Now I have to find a bass player ASAP. We have our first rehearsal this Sunday. Anyone have any leads?
Speaking of guests, I have planned to have band members contribute tracks to the record so it would better represent the group. Why not add a few celebrity cameos, too? Sure! I heard a great singer/songwriter, Tamaras, on the local college station, KZFR, and learned that she would be in Chico to give a radio interview on June 20. I decided to ask her to record backing vocals for "Hollywood Funk." Her manager replied the same day via email that yes, Tamaras would be interested. Wow again. I'll let you know what happens!
04/30/02
The band: Now I'm excited! Last night was the first meeting of the Hollywood Outsiders. Over the last few weeks I recruited four talented and experienced members of the Chico music scene to play guitar, keys, bass, and drums in the band (Paul Chandler, Aaron Pico, Mick Nantell, and Bill Arnold). We also have a writer and director for the "play" part of the production, Jeremy Votava.
We got together last night to listen to the music (for some it was the first time) and to discuss details of the production. The reaction from the potential band members was very good. These guys gig regularly, and all were willing to bend their schedules—Blue Room performances usually run from 7:30 to 9:00, so they can go play their gigs afterwards. Next on the agenda is a see-how-we-play-together-to-test-the-chemistry jam at the end of May.
In short, Hollywood Outsider will run for three or four weeks at the Blue Room Theatre in September. Hard dates to come. In the mean time, I've got to finish recording!
04/15/02
Limbo sucks. Ever been there? (Three-hour layover at O'Hare? Ten hours waiting for the baby to come?) Nothing happens. In this case, nothing is happening with HO, except my stress about not moving forward. I'm not bored, though. Tax season has been excitement enough, combined, as it is, with Heather's deadly book-that-would-not-die project and my increasing-work-with-same-pay at my "day job".
I did get an encouraging note from Joe Hillsee, Blue Room Director. He said, "Scheduling is coming slow, but you are definitely still in the mix. I just saw Hedwig and the Angry Inch and I was blown away. It was one of the best movies I have seen in a long while. So I am even more sold on the idea than I was before." Joe also asked if I was interested in composing rock music for Sam Shepard's play Tooth of Crime. Wow! If there was money in this, I'd be set!
I was also able to recruit a wonderful, multitalented bass player, and I'm interviewing a veteran drummer. So the band is in the works.
So, I can't get any work done in Limbo, but I can't stop thinking about it, either.
03/31/02
So I've been writing Hollywood Outsider, my multimedia rock theater performance, as I am now calling it, for over three years. You may have heard me mention it once or several hundred times. But if you haven't, here's what's up.
I'm writing and recording a storybook record, in the spirit of the great works by Pink Floyd, Genesis, and The Who. The story is about a boy who grows up in the Midwest with a nymphomaniac mother and abusive father. One night, mom packs up our antihero and they drive off into the stormy night to make a new life in Hollywood. Sadly, mom turns to prostitution, and our growing young man marries a lying drug addict who introduces him to her dying father, who, after making an emotional connection with our boy, promptly dies. More fun ensues, you can be sure, in this merry little escapade, leading to a harrowing visit at the psychiatrist's office. But there is a silver lining...the music. Which, as we know from repeated (incessant) listenings of The Wall, is what makes this gloomy trip enjoyable. At least that's what I get out of it.
Phase one, writing the lyrics and music, is finished. Soon I'll post the lyrics on my web site.
Phase two, recording in my home studio, is underway. I will complete the nine songs by August, and will have the CDs professionally duplicated for sale at the show (merchandising! t-shirts, too!).
Phase three is booking the venue for the show. And this is today's good news. I pitched my show to the director of Chico's Blue Room Theatre this afternoon. (The Blue Room seats 120. Heather and I see a lot of great, intimate plays there.) After my pitch, Joe, the director, said, "I like it. Good lyrics. Good music. This is just what we need to break up our season and throw our audience a curve." It could not have gone any better. He said he would schedule the theater's upcoming season soon, and let me know at the end of April. We're aiming to stage the show in September, when the college kids return from break. I imagine the show running eight or twelve performances over two or three weeks.
Phase four will be finding musicians to be in the five piece band. Plus three female singers. Shouldn't be much trouble finding qualified players. As local rock promoter DNA says, "You can't put your arm out downtown without smacking a musician in the face."
So! The machine is rolling! Hollywood Outsider World Premier, coming Fall 2002 to a theater near you (if you live in Chico)!
© 2002 Aaron C. Lyon